CALDWELL – Wheatland Electric Cooperative, Inc., is hosting Caldwell Cares on Thursday, Nov. 12, 2020, at Stock Exchange Bank, 103 S. Main St., to raise cash and canned food donations for local food banks ahead of the holiday season.
Wheatland representatives will be collecting non-perishable and monetary donations from 10 a.m. to 2 p.m. to benefit both the Caldwell Food Bank and United Methodist Food Pantry.
In exchange, residents can enjoy sweet treats from Pekarna Coffee+Bakery and enter to win one of three $50 Caldwell Bucks from the Caldwell Chamber of Commerce.
Individuals can also donate to any local food bank within Wheatland Electric's service territory at https://www.weci.net/cram-van-food-drive during the month of November as part of our annual Cram the Van food drive. Every $10 online donation will count as one entry into our Traeger Tailgater Pellet Grill giveaway, to be held in December. Donations can also be made anonymously.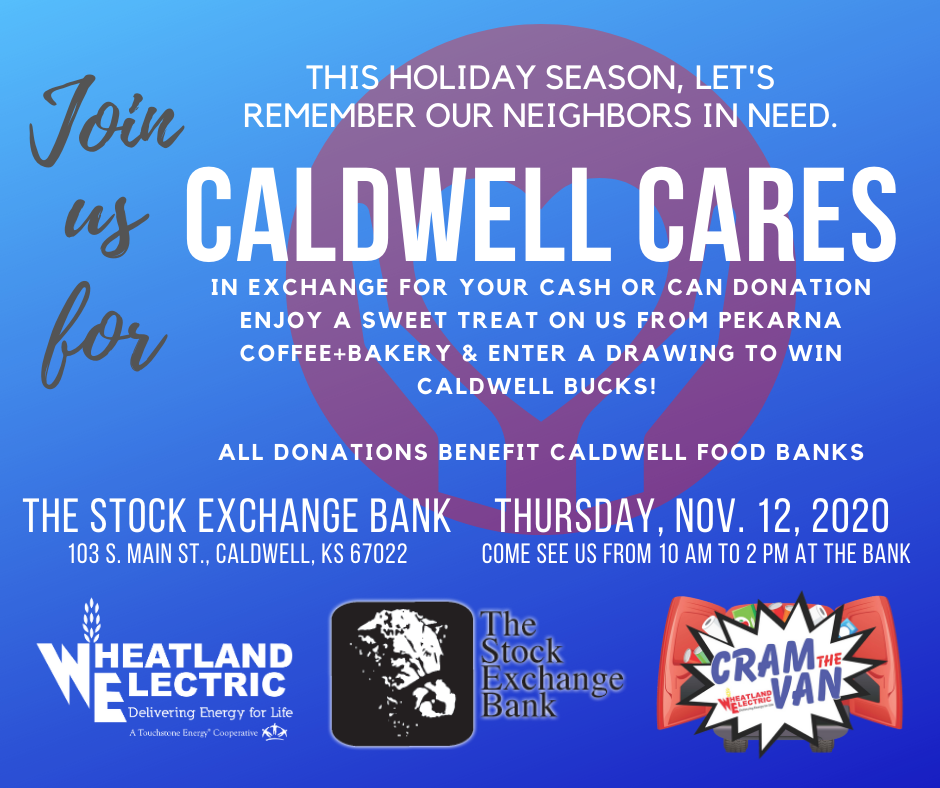 About Cram the Van
Every fall since 2014, Wheatland Electric has hosted community gatherings, school competitions, and other events to collect donations for local food banks across our service territory.
The annual food drive is coined "Cram the Van" thanks to our signature fleet vehicle: a red, extended passenger van used to collect and deliver donations.
Over the past six years, and thanks to the generosity of the communities we serve, Wheatland has been able to facilitate the collection of over 47 tons (95,527 lbs.) of food for local food banks across southwest and southcentral Kansas. All contributions are delivered to the local food bank in which the donations are made.
About Us
Our Mission: Delivering Energy for Life – Wheatland Electric Cooperative, Inc., a member owned distribution cooperative headquartered in Scott City, KS, was established in 1948 as a distribution and power cooperative, in the state of Kansas. Today, Wheatland Electric serves more than 33,000 electric meters in 17 different counties and maintains over 4,000 miles of distribution power lines across western and southcentral Kansas. Together, with the help of our members, Wheatland Electric is committed to building a better and stronger rural America. Visit www.weci.net for more information.