SCOTT CITY–Wheatland Electric's 2020 Cram the Van season has raised the equivalent of 32,206 pounds of food for 11 area food banks across our service territory, more than any year since its inception in 2014.
Since its inaugural season and including this year's totals, Wheatland Electric has facilitated the collection of more than 63 tons (127,733 pounds) of food donations, thanks to the generosity of the members and communities we serve. To date, all donations have been delivered to the local food banks in the communities in which they were donated.
Due to the special challenges surrounding the ongoing pandemic, Wheatland Electric held six donation drive-ins during the months of October and November to facilitate the collection of both cash and can donations from members in exchange for a pre-packaged hamburger or hot-dog meal.
Thanks to these donations, additional online donations, and proceeds collected from the second annual Co-Ops Cares Charity Golf Tournament, held Aug. 28, 2020, at Mariah Hills Golf Course in Dodge City, Wheatland Electric has delivered the equivalent of 16 tons of food to 11 local food banks within our southwest and southcentral service territory.
These area food banks include the following: Ministerial Alliance in Scott City; Wichita County Food Bank in Leoti; Greeley County Food Pantry in Tribune; Hamilton County Food Pantry in Syracuse; Horns for Hope c/o USD 363 in Holcomb; Emmaus House and Genesis Family Health in Finney County; Community Food Bank of Barton County in Great Bend; Harper Mission Mart in Harper; and the United Methodist Food Pantry and Caldwell Food Bank in Caldwell.
Caldwell – 2,055 lbs.

Conway Springs – 2,672 lbs.

Finney County –3,394 lbs.

Great Bend – 7,590 lbs.

Harper – 2,152 lbs.

Holcomb – 1,927 lbs.

Leoti – 3,096 lbs.

Scott City – 4,045 lbs.

Syracuse – 2,679 lbs.

Tribune – 2,596 lbs.
Total: 32,206
Watch a video of our 2020 Cram the Van donations and deliveries at https://youtu.be/VFPcR8PRH-0. For more information about Cram the Van, visit https://www.weci.net/cram-van-food-drive.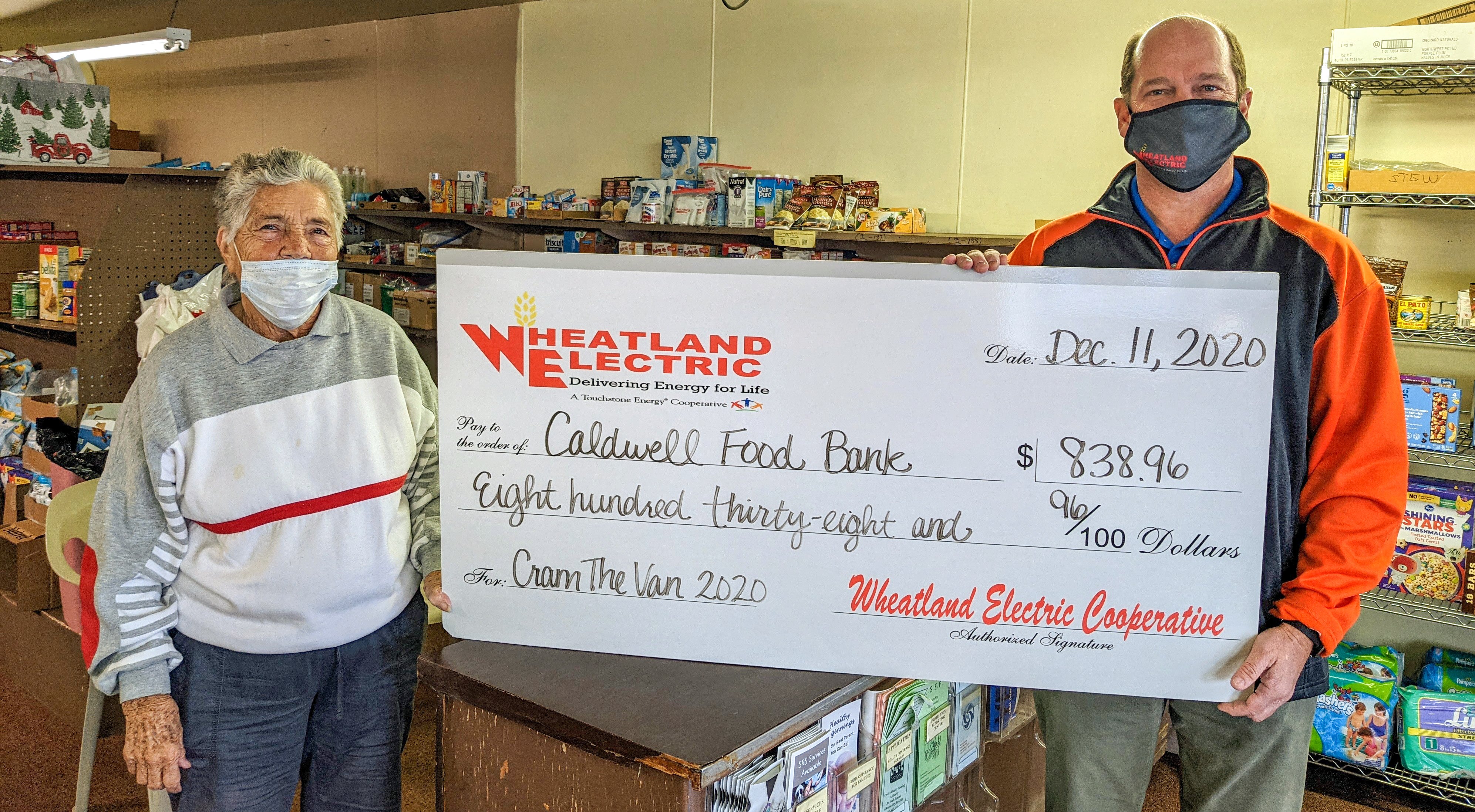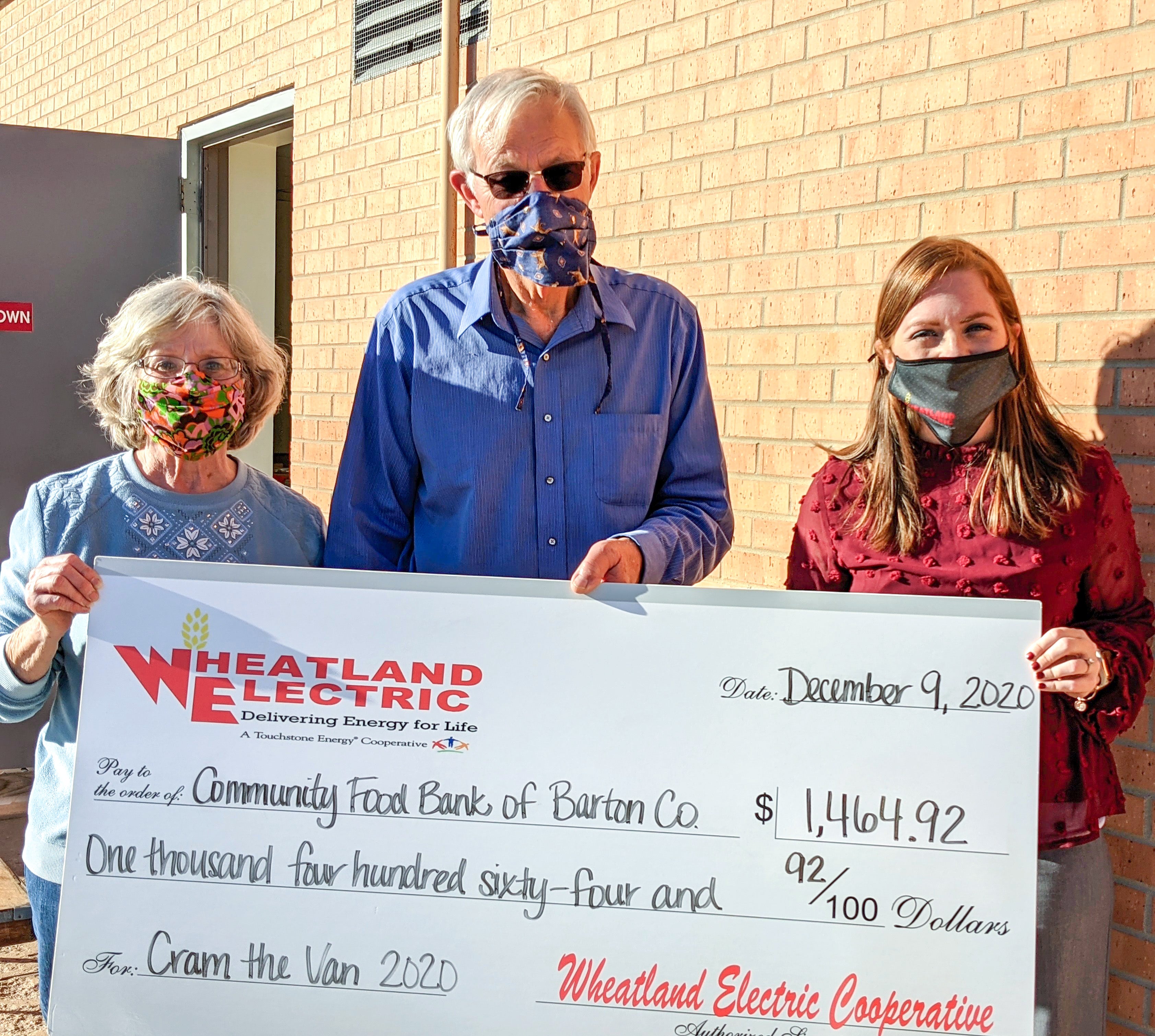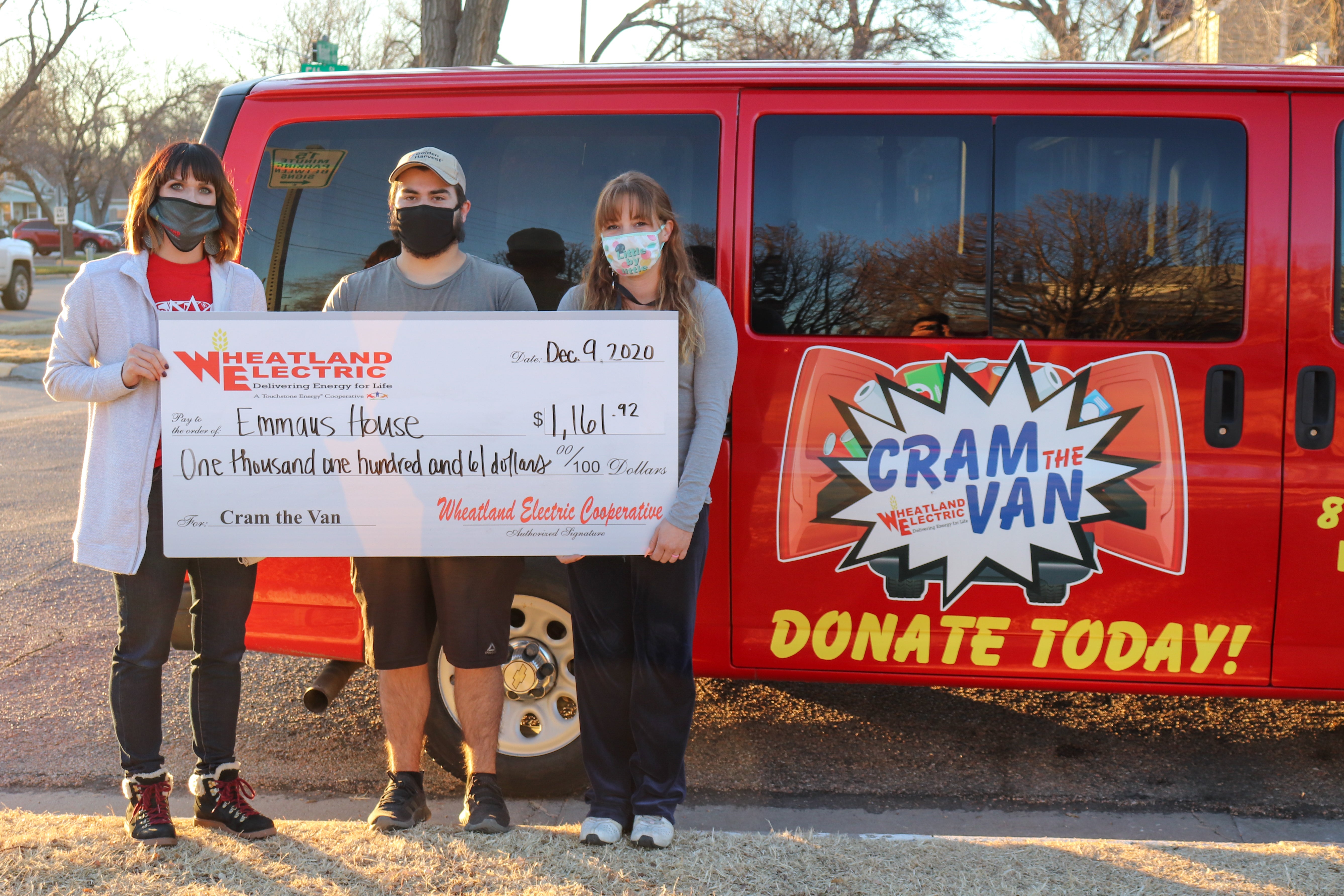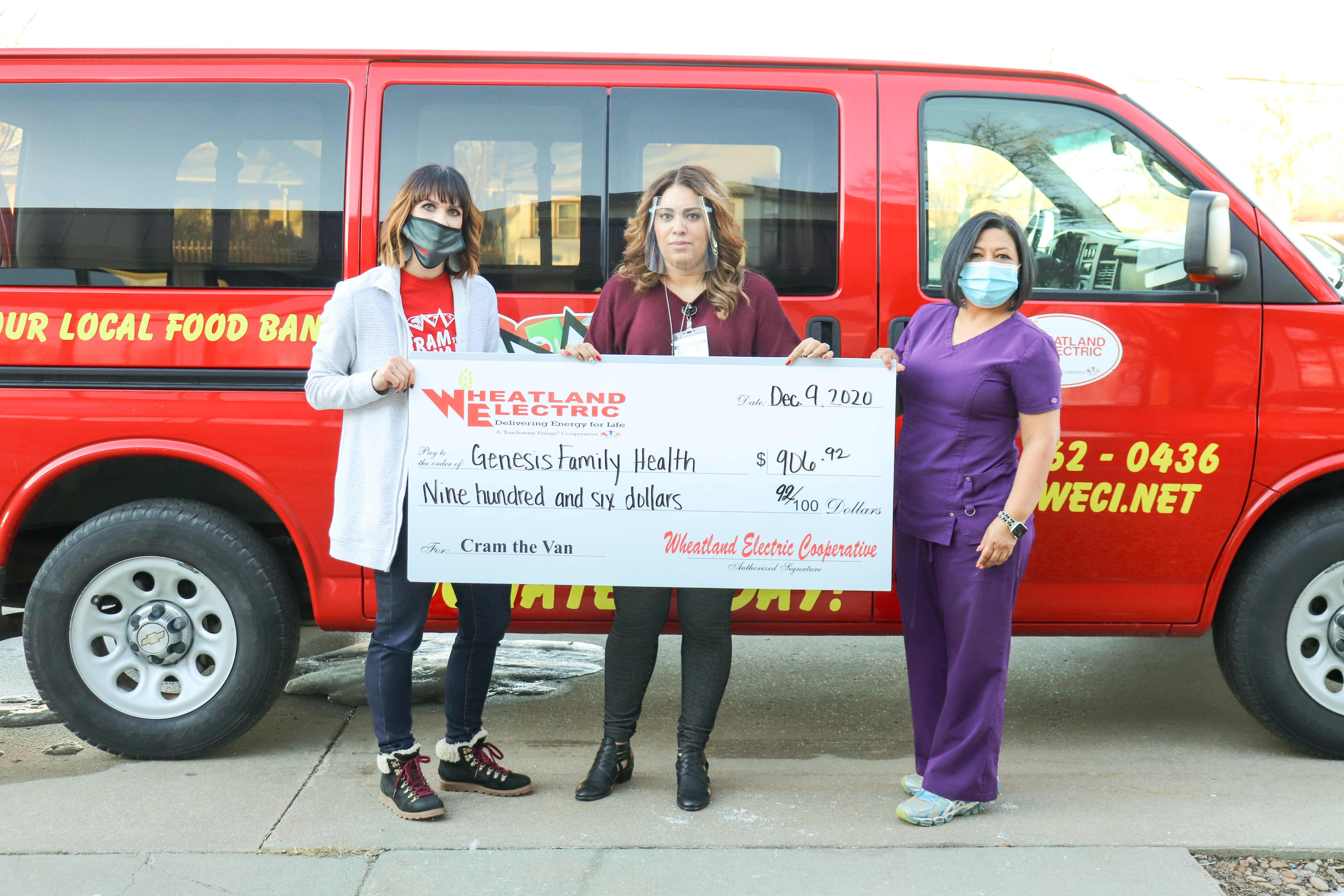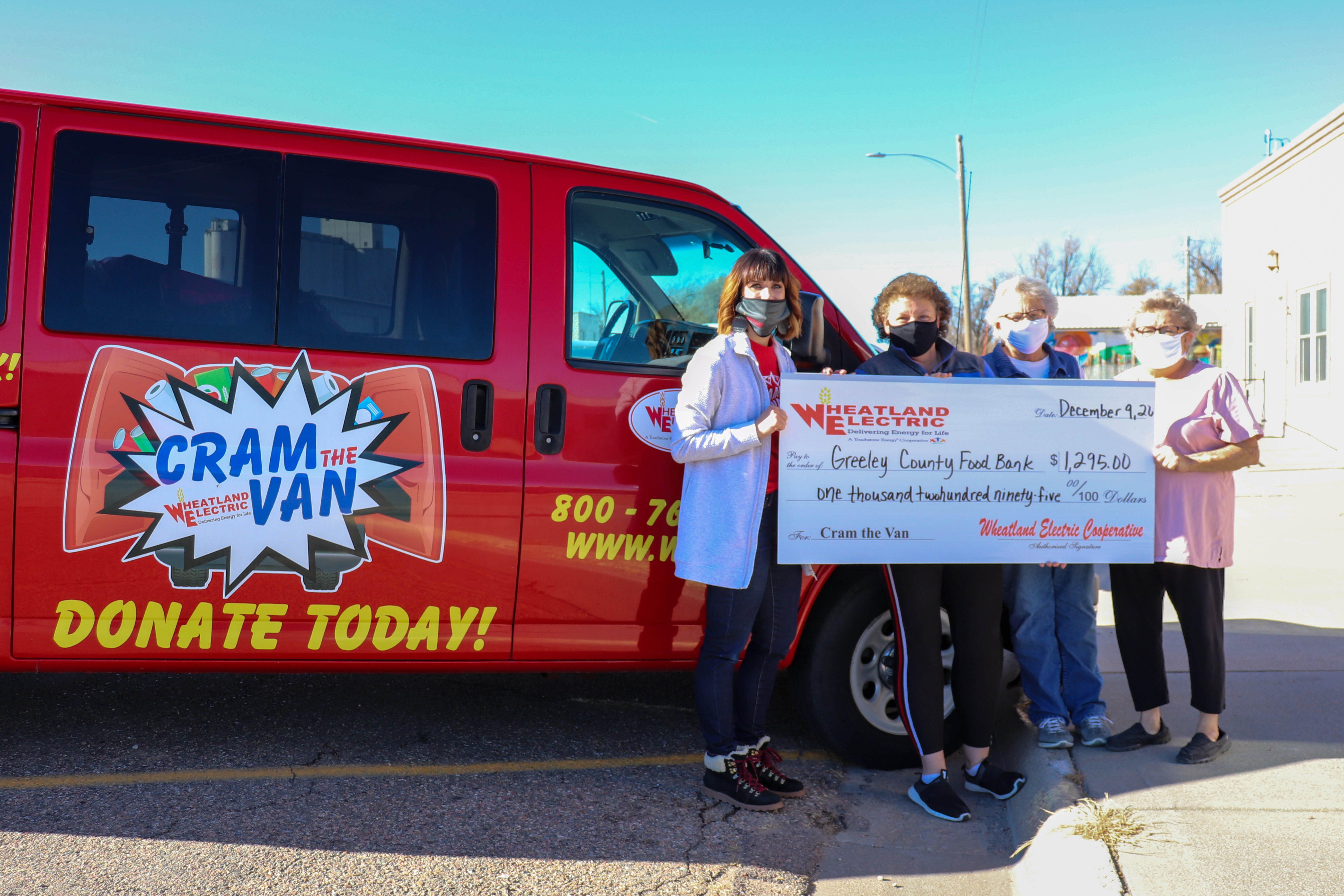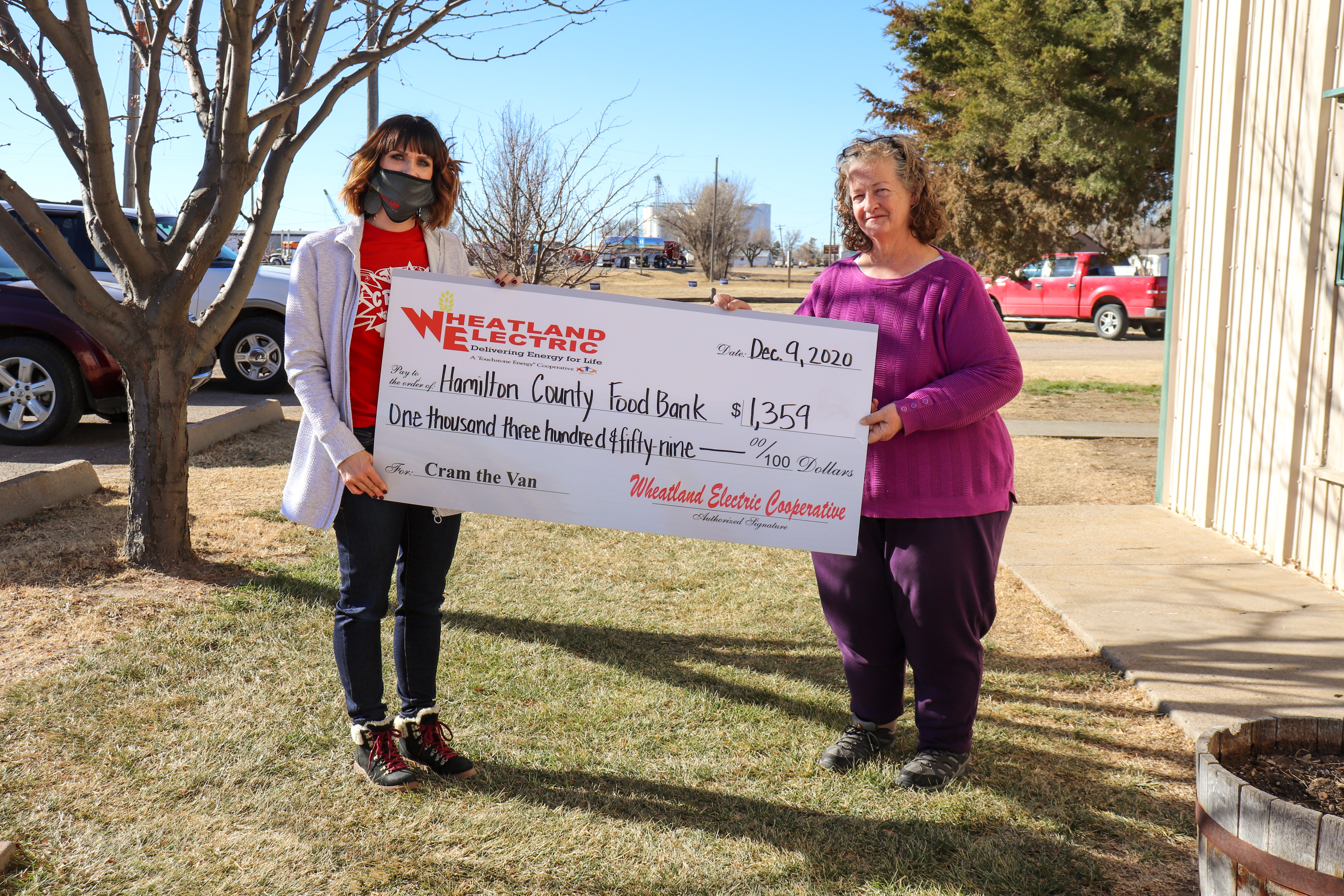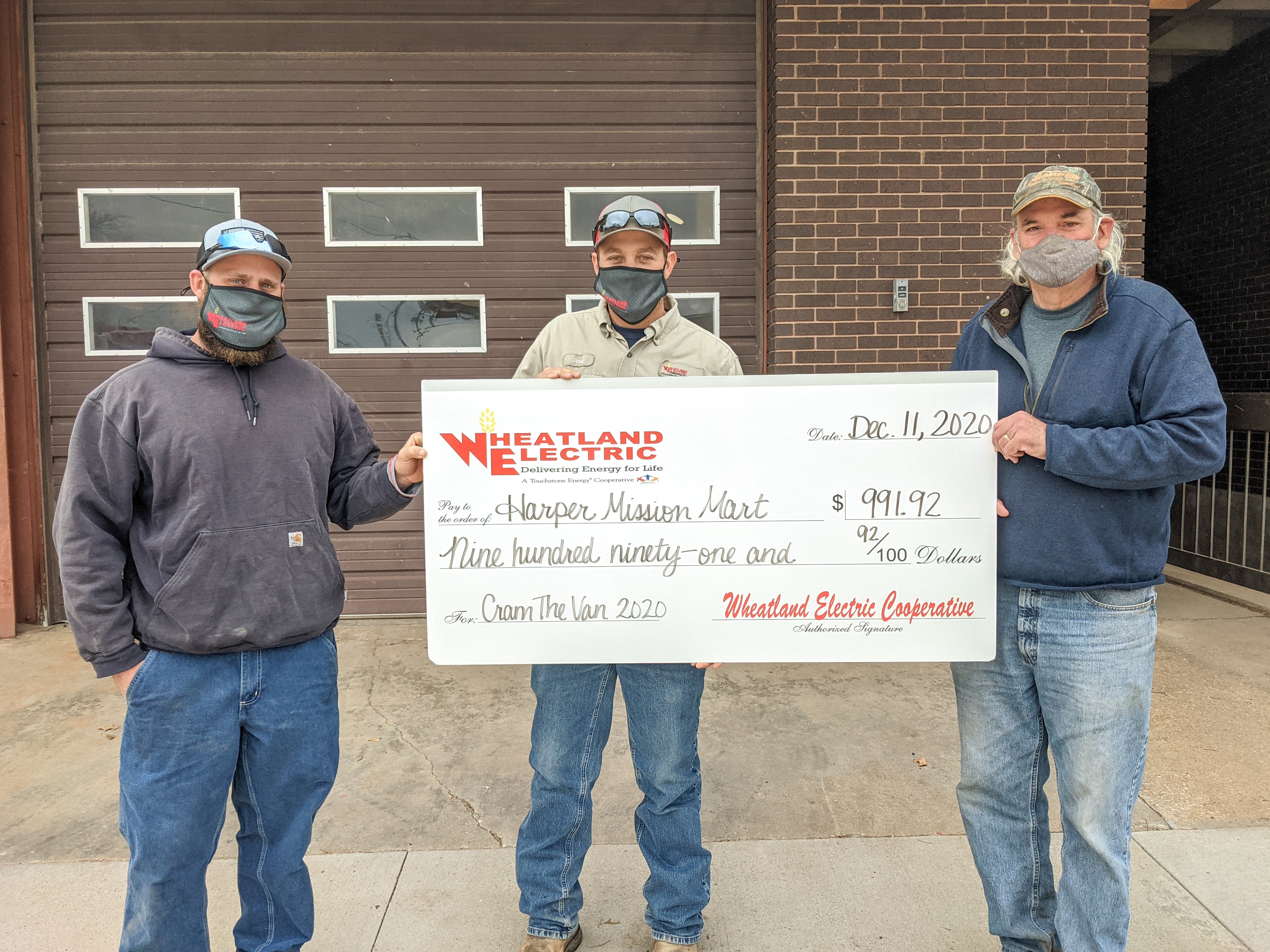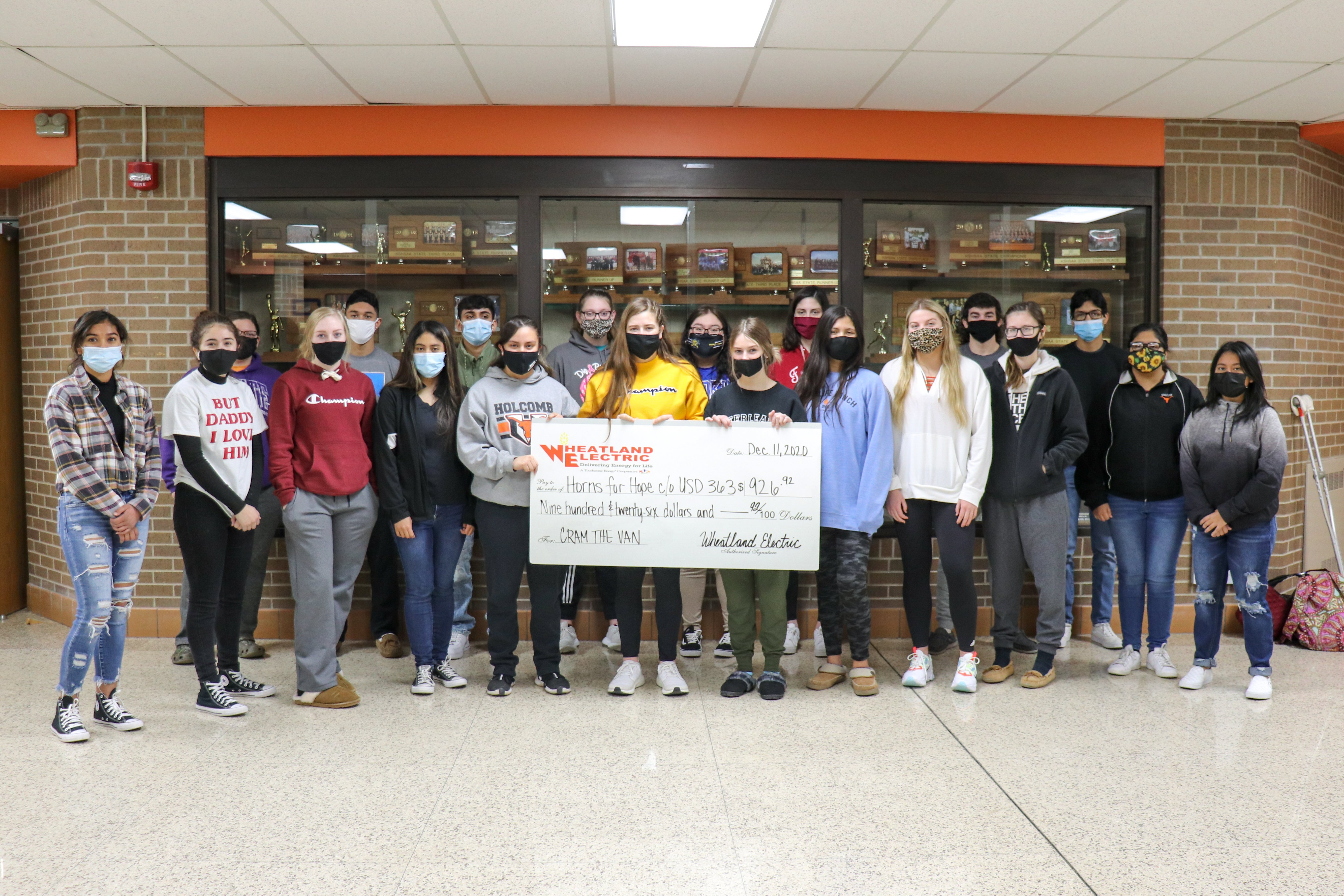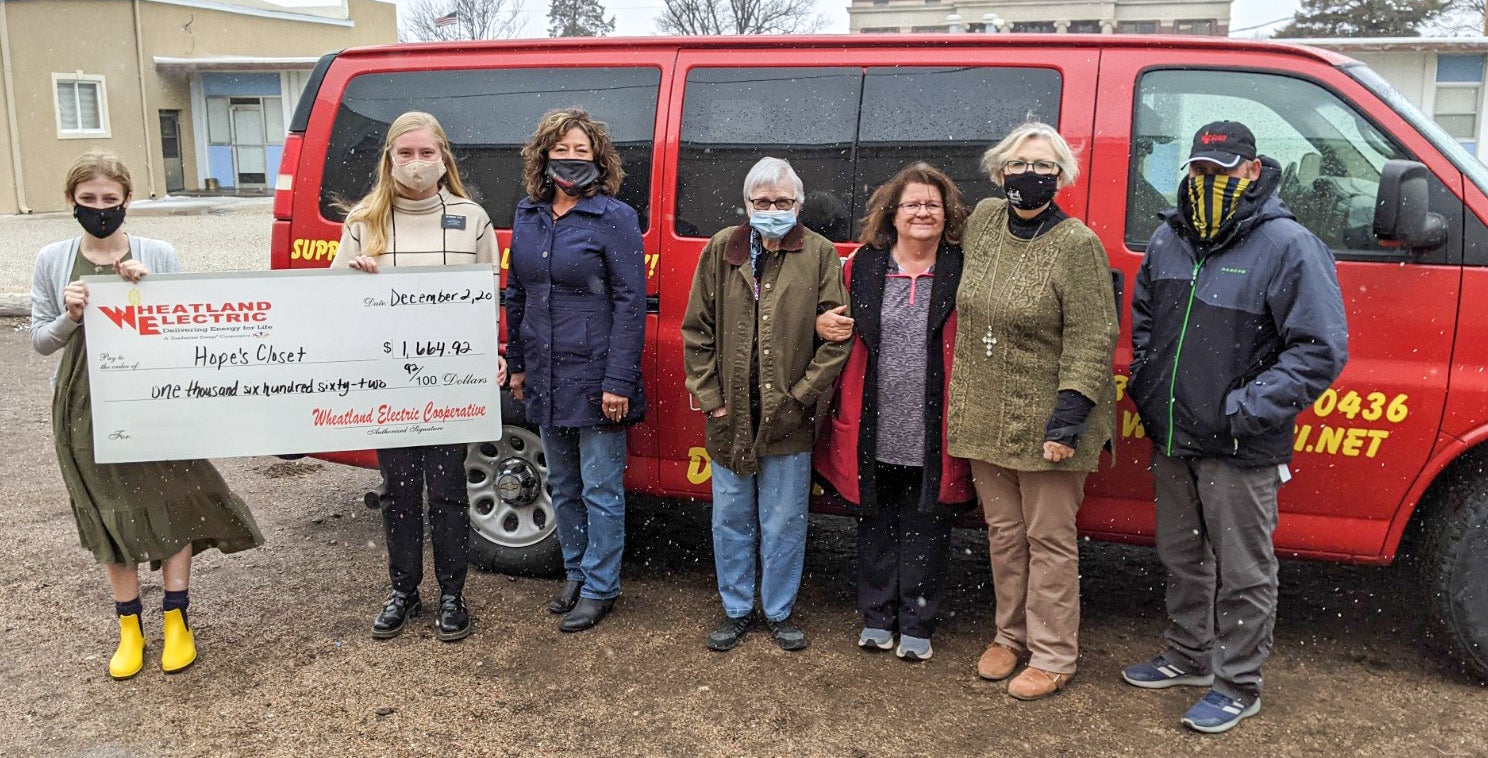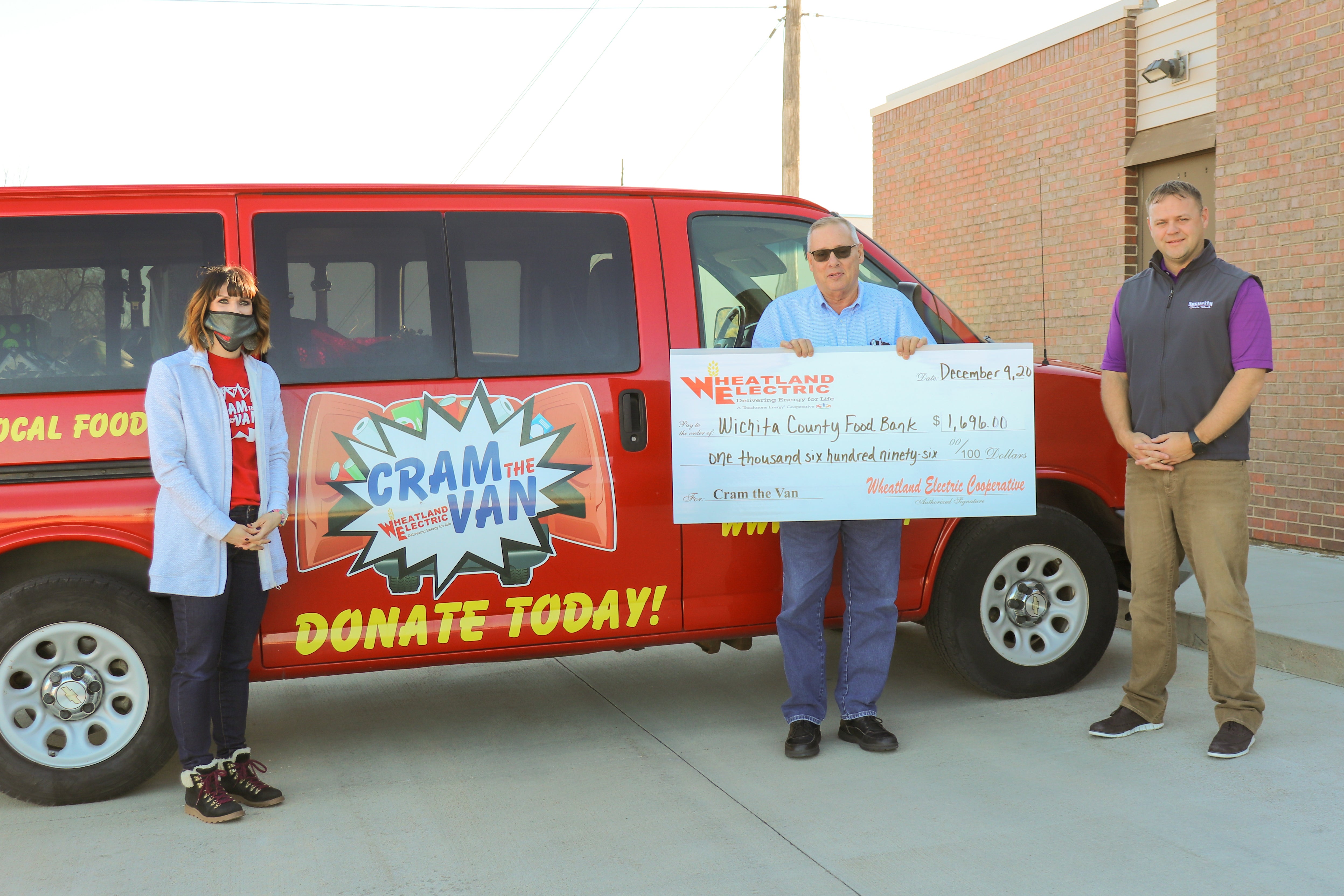 About Us
Our Mission: Delivering Energy for Life–Wheatland Electric Cooperative, Inc., a member owned distribution cooperative headquartered in Scott City, KS, was established in 1948 as a distribution and power cooperative, in the state of Kansas. Today, Wheatland Electric serves more than 33,000 electric meters in 17 different counties and maintains over 4,000 miles of distribution power lines across western and southcentral Kansas. Together, with the help of our members, Wheatland Electric is committed to building a better and stronger rural America. Visit www.weci.net for more information.